Jewelry by James was founded in 2018 by data engineer James Garten, miner and lapidarist Mike Garten, and miner and jewelry designer Doreen Garten.
Collect, Cut, Create
Mike has been picking up rocks and putting them in his pockets since he a little guy. Not great for the washing machine, though! Over the years, Mike and Doreen have collected stones while hiking in various parts of the United States and internationally. About five years ago, Mike took some refresher lapidary courses and Doreen started taking metal and silversmithing courses from various instructors in Albuquerque. Mike can't wait to see what a stone looks like after he has cut into it and hand polished. It is important to Mike that while he works with a stone that he maintains as much of its natural attributes as possible. He is passionate about the geology especially New Mexico geology. Just ask him a question.
Metal as a medium has almost limitless possibilities, Doreen finds it necessary to constantly strike a balance between the form she has in mind and what the metal lends itself to becoming. A plain strip of sheet metal can become a beautiful form with just a simple bend or twist. Splattering hot molten silver onto the soldering bench for a unique piece of jewelry. We incorporate silver, bi-metal gold/silver, copper and brass as well as gemstones, paper and beads are incorporated into our unique designs.
When she's having trouble with the progression of her work, it's usually because she's fighting the material rather than taking advantage of its properties. Her satisfaction comes from understanding the material and finding what it can do.
Doreen likes the exploration of three abstract dimensional geometric. But then, there is the whimsical and humorous side of her. Either way, she focuses on the balance of movement and direction and is fascinated by color, asymmetry and contrast. Her designs are meant to communicate, at the very least, start a dialog! Doreen's fascination of Frank Lloyd Wright designs leads her to creating minimalist pieces with clean lines!
We are constantly learning, building and growing. I hope that you can feel and see the care in every bend of the wire, every hammer stroke, and in every blast of the torch. Our work is hand fabricated using a variety of techniques with traditional hand tools. If you have questions about my work, please don't hesitate to contact us.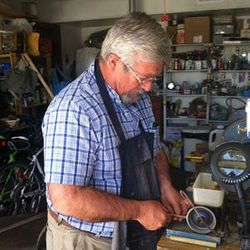 Mike - The Miner
After reading a report from the North Carolina Department of Natural Resources, Mike went mining for rubies, sapphires, garnets, etc. This experience triggered Mike's fascination of stones and the extraordinary expression each stone possesses. He carries the same fascination when working, cutting and polishing the stones.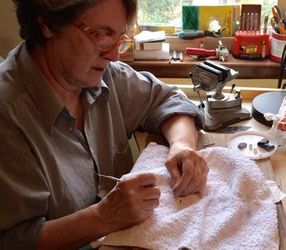 Doreen - The Minimalist
We offer contemporary eclectic artisan jewelry made from unique stones, many of which we have personally collected on hikes.
With these distinctive stones, we design a fresh clean line of jewelry blending striking shapes with a playful spirit!.
I am passionate about making extraordinary people express themselves in a rebel-sophisticated manner - extraordinary people who are looking to stand out through innovation, originality and high product quality - who dare to be different, express his/her loud silence!